Product Details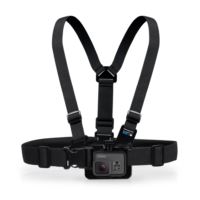 GoPro Chest Mount Harness "Chesty"
(PRE-GCHM30-001)
6,891 Points
The "Chesty" is fully adjustable to fit all sizes. Makes it easy to capture video and photo footage from, well..your chest. Perfect for skiing, mountain biking, motocross, paddle sports, or any activity where you want to get a lower than the helmet view of the action. See more of your arms, knees poles, and skis while skiing…or your arms and handlebars while biking or riding your motorcycle. Recommended as a more immersive way to film than on the helmet. What''s included: 1 Adjustable Chest Harness, 1 Vertical Surface "J-Hook" Buckle. Warranty: 1 Year. Merchandise usually ships within one week of order.
Please log in to add this item to your shopping cart or wishlist.

My Account | Shopping | Use Points | About the Program | Contact Us
© 2019 RewardsNOW, Inc. All rights reserved.