Product Details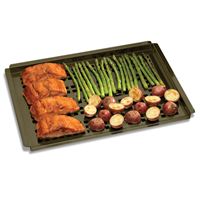 Cuisinart Simply Grilling Non-stick 12" x 16" Grilling Platter
(PRE-CNP-411)
4,384 Points
The Cuisinart® Non-Stick 12" x 16" Grilling Platter helps any grilling enthusiast cook a variety of delicate foods on the grill without allowing them to fall through the grate. Ideal for fish, seafood and vegetables, this smartly designed platter features a large 12" x 16" grilling surface, professional grade non-stick coating and a perforated grilling surface to enhance the natural grilled flavors created by the open flame. Merchandise usually ships within one week of order.
Please log in to add this item to your shopping cart or wishlist.

My Account | Shopping | Use Points | About the Program | Contact Us
© 2019 RewardsNOW, Inc. All rights reserved.