Product Details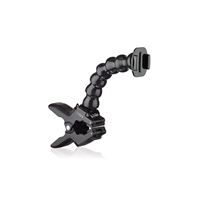 GoPro Jaws Flex Clamp
(PRE-ACMPM-001)
8,163 Points
Enables a GoPro camera to be clamped to objects rangingin size from .25" to 2" (.6cm to 5cm) in diameter. Camera canbe attached directly to the clamp for low-profile mounting, oruse the optional neck to achieve a wider range of camera-angle adjustability. Jaws securely grips irregular shapes and super slim objects thanks to its innovative design. Merchandise usually ships within one week of order.
Please log in to add this item to your shopping cart or wishlist.

My Account | Shopping | Use Points | About the Program | Contact Us
© 2019 RewardsNOW, Inc. All rights reserved.