Product Details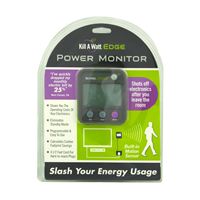 P3 Kill A Watt Edge Energy Usage Monitor
(PRE-D-P4490)
13,419 Points
Save up to $1,274 by using the Kill A Watt Edge. The Edge makes it easier than ever gain insight on your consumption with new features, for everyone from the average consumer to the most tech savvy! The Kill A Watt Edge has all the measuring capabilities of its predecessors, plus a CO2 function so that you can calculate your carbon footprint and a dual display that shows multiple types of information at once. It even calculates the consumption and cost of your devices when left in standby mode! Once you know how much each device uses, the easy to use the programmable motion sensor will turn them off when not in use. The Edge will learn your behaviors and tell you how much you have saved when your devices are really off.Merchandise usually ships within 10 business days of order.
Please log in to add this item to your shopping cart or wishlist.

My Account | Shopping | Use Points | About the Program | Contact Us
© 2020 RewardsNOW, Inc. All rights reserved.