Product Details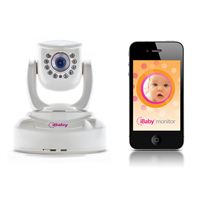 iBaby Monitor with 2-way Audio for Apple Device or Smartphone
(PRE-IL1M3S)
39,775 Points
Features:
• Camera rotates and pivots to follow your baby''s movement
• Remotely control the camera with your iOS device from anywhere
• Clear video resolution and 2-way audio capability lets you see, listen, talk and sing to baby
• Baby''s movement or cry activates alerts to you
• Take unlimited pictures with photo capture
• Up to 4 devices + 4 users share control
• Infrared night vision lets you see without waking baby
Software
• Mobile: iPod Touch, iPhone and iPad, OS 4.0 or later (free App available at the App Store)
• Desktop: Microsoft Windows 98/2000/XP/Vista/Win 7 (CD-ROM included with purchase)
• Browser: Internet Explorer 6.0 or higher, or compatible browser, Firefox or ChromeMerchandise usually ships within one week of order.
Please log in to add this item to your shopping cart or wishlist.

My Account | Shopping | Use Points | About the Program | Contact Us
© 2019 RewardsNOW, Inc. All rights reserved.