Product Details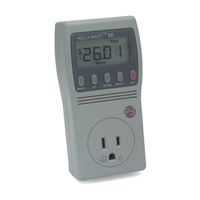 Kill A Watt EZ Electricity Usage Monitor
(PRE-D-P4460)
12,249 Points
Save up to $1,275 in electricity costs by finding out what appliances are actually worth keeping plugged in. Simply connect appliances to the Kill A WattEZ and assess how efficient they really are. Plug the monitor into a wall socket, then plug the appliance into the monitor. A large LCD screen counts consumption by the kilowatt hour (kWh), while the battery backup and built-in memory retain the accumulated readings if the power is interrupted. Program in your local electric rate and calculate electrical expenses by the day, week, month, even an entire year. Displays 8 critical units of measure, including voltage (V), line frequency (Hz), and power factor (VA). Quickly and easily know if it''s time for a new refrigerator or if that old air conditioner is costing you a bundle.Merchandise usually ships within 10 business days of order.
Please log in to add this item to your shopping cart or wishlist.

My Account | Shopping | Use Points | About the Program | Contact Us
© 2020 RewardsNOW, Inc. All rights reserved.