Product Details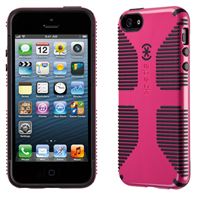 Speck iPod touch 5 CandyShell Grip Case (Raspberry Pink/Black)
(PRE-SPK-A1674)
5,864 Points
Gamers, shutterbugs and butterfingers are in for a treat. CandyShell Grip combines protection and gripping bands of color to make sure the situation never gets out of hand.
Features:
•Fits iPod touch 5G
•Interwoven plastic and rubber grips add structure and style.
• Strategically placed ridges keep thumbs aligned with touchscreen buttons "for the win."
•Patented design provides two layers of protection in a single-piece, pop-in construction.
• Raised edges help protect your screen from impact and add grip so your iPod can lie face down on tables or dashboards without sliding.
•Rubberized covers shield volume and sleep/wake buttons while keeping them fully accessible.
•Full access.

Please log in to add this item to your shopping cart or wishlist.

My Account | Shopping | Use Points | About the Program | Contact Us
© 2019 RewardsNOW, Inc. All rights reserved.