Product Details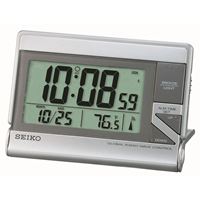 Seiko Advanced Technology Travel Alarm
(PRE-D-QHR024SLH)
12,161 Points
Global R-Wave Travel Alarm.Silver-tone metallic case; Bright amber light; Calendar; Thermometer; Ascending beep alarm with snooze; Automatic alarm stops after 1 minute; Works in all countries with R-Wave systems.Two "AA" batteries required.3 1/4" x 4" x 3/4" Merchandise usually ships within 10 business days of order.
Please log in to add this item to your shopping cart or wishlist.

My Account | Shopping | Use Points | About the Program | Contact Us
© 2019 RewardsNOW, Inc. All rights reserved.