Product Details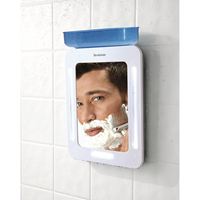 Brookstone® Fogless Shower Mirror
(PRE-D-881704)
12,271 Points
Mirror fogging often leads to nicks and missed spots while shaving. Fortunately our Fogless Shower Mirror sticks just where you need it–shower walls, tile or glass doors. Fill the reservoir cup with warm water from the shower, then replace the cup on the mirror. In seconds, the mirror will clear and remain fog-free. Shave closer, smoother, more comfortably. As you begin shaving, simply turn on the handy LED lights for either face or chin. There's a convenient razor holder when you need your hands free, plus a squeegee for clearing water droplets. So it's easy to get the close, comfortable shave you want. Afterward the reservoir slowly drains to stay clean and dry between uses. Merchandise usually ships within 10 business days of order.
Please log in to add this item to your shopping cart or wishlist.

My Account | Shopping | Use Points | About the Program | Contact Us
© 2019 RewardsNOW, Inc. All rights reserved.