Product Details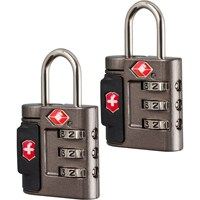 Victorinox Travel Sentry® Approved Combination Lock Set
(PRE-D-31370001)
6,741 Points
3-Dial Combination Shackle Locks with Inspection Indicator
Features:
Travel Sentry® Approved combination locks secure belongings while in transit and allow U.S
airport security to open the locks without destroying them and relock them after inspection
Inspection indicator deploys after lock is opened, indicating that security screeners have inspected your baggage
Durable cast zinc construction
Sized to fit through locking zipper sliders on luggage and briefcases
Three-digit combination can be reset as needed.
1.25"w x 2.25"h x 0.75"d Merchandise usually ships within 10 business days of order.
Please log in to add this item to your shopping cart or wishlist.

My Account | Shopping | Use Points | About the Program | Contact Us
© 2019 RewardsNOW, Inc. All rights reserved.