Product Details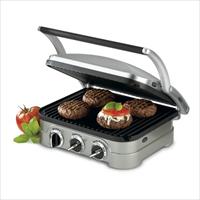 Cuisinart® Griddler®
(PRE-GR-4N)
18,854 Points
The Cuisinart Griddler makes "multifunctional" an understatement! With five separate cooking options, it can handle everything from pancakes to sausages to grilled cheese to steaks, hamburgers and panini. A floating cover and one set of reversible plates that snap in and out turn the Griddler® into a Contact Grill, a Panini Press, a Full Grill, a Full Griddle, or Half Grill/Half Griddle. Dual temperature controls ensure everything is perfectly cooked!
Feature:
Removable and reversible dishwasher-safe nonstick cooking plates for easy storage,
Cooking plates drain grease for healthy cooking,
Integrated drip tray collects grease,
Sturdy panini-style handle with hinged floating cover adjusts to thickness of food.
Merchandise usually ships within one week of order.
Please log in to add this item to your shopping cart or wishlist.

My Account | Shopping | Use Points | About the Program | Contact Us
© 2019 RewardsNOW, Inc. All rights reserved.