Product Details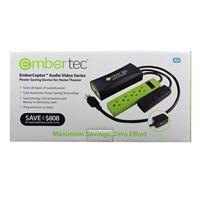 BITS International Embertec EmberCeptor™ AV Series
(PRE-D-ECEUUSAV)
24,647 Points
This Embertec EmberCeptor power saving device is ideal for use with all audio video (AV) appliances and setups, including televisions, digital and cable boxes, home theater speaker systems, game consoles and more. Simply plug selected devices into the 4 green power saving sockets, when no activity is detected from the infrared remote, such as a television remote or game controller, for a user settable period of 1-3 hours, it cuts power to those devices. The EmberCeptor also includes 3 black always-on sockets ideal for cable boxes, modems and other devices you want to leave on. The 9'' cable allows the infrared sensor to be located in clear view of the (IR) remote, allowing it to easily monitor any activity from the remote and power down or up as needed. Merchandise usually ships within 10 business days of order.
Please log in to add this item to your shopping cart or wishlist.

My Account | Shopping | Use Points | About the Program | Contact Us
© 2020 RewardsNOW, Inc. All rights reserved.