Product Details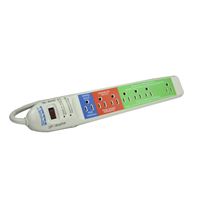 Smart Power Strip- Energy Saving Power Strip
(PRE-D-SCG3)
8,783 Points
Save up to $69 in electricity costs with the Bits Limited Smart Power Strip. The 7 outlets work together on this strip, automatically switching devices on and off for you. Two outlets always have power.One of these, labled "master outlet,"controls the other 4 outlets, which automatically turn off when a drop in current to the master outlet is detected, and automatically turn on when an increase in power to the master outlet is detected. In other words, plug your computer into the master outlet and its peripherals into any of the other 4. When you shut down your computer all of the peripherals will also turn off. When you turn on your computer the peripherals will also turn on. The Smart Strip has a lighted power switch, is wall mountable, and has a6 foot long heavy-duty power cord.Merchandise usually ships within 10 business days of order.
Please log in to add this item to your shopping cart or wishlist.

My Account | Shopping | Use Points | About the Program | Contact Us
© 2019 RewardsNOW, Inc. All rights reserved.