Product Details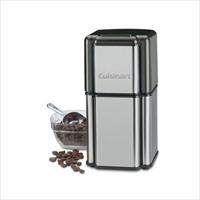 Cuisinart® Grind Central Coffee Grinder
(PRE-DCG-12BC)
6,900 Points
The Grind Central™ Coffee Grinder features a brushed stainless steel housing, and removable stainless bowl and blade assembly. With a 90-gram capacity and Measurement Markings, you can efficiently measure and grind the exact quantity of coffee beans you need - for up to 18 cups at once!
Features:
Popular brushed stainless steel styling,
On/Off control for simple operation,
Built-in safety interlock prevents operation unless lid is securely closed,
Bowl holds up to 90 grams of beans, enough for up to 18 cups of coffee,
Heavy-duty motor and stainless steel blades,
Dishwasher-safe, removable stainless steel bowl,
Lid allows for extra coffee to be stored in grinding bowl,
Cord storage,
Storage lid. Merchandise usually ships within 10 business days of order.
Please log in to add this item to your shopping cart or wishlist.

My Account | Shopping | Use Points | About the Program | Contact Us
© 2019 RewardsNOW, Inc. All rights reserved.