Product Details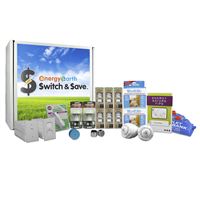 Switch and Save Deluxe Kit- Savings up to $7,193
(PRE-D-2E)
24,960 Points
Make the switch and save today with our Switch and Save Deluxe Kit! These deluxe energy conservation kits work to save you the most money and natural resources around your home, up to $7,193* over the life of the products! Deluxe energy saving kits are a great, easy way to go green without the hassle; get all the products you need with one click. Each kit contains a full selection of energy saving products, water saving products and more.*Savings results may vary based on utility rates and usage.Merchandise usually ships within 10 business days of order.
Please log in to add this item to your shopping cart or wishlist.

My Account | Shopping | Use Points | About the Program | Contact Us
© 2020 RewardsNOW, Inc. All rights reserved.