Product Details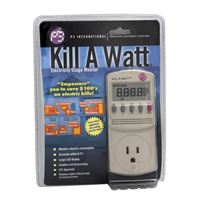 P3 International Kill A Watt™ Electricity Monitor
(PRE-D-P4400)
7,674 Points
This P3 Kill A Watt Electricity Monitor helps you quickly and easily find out which appliances are the energy abusers in your house. Simply plug it into a 3-prong grounded wall outlet, plug your appliance, computer, lamp, or other electrical product into the monitor, and you''ll find out how efficient (or wasteful) it really is. A large LCD display allows you to monitor the kilowatt hour (kWh) consumption each item and how much it costs to run by day, week or month. You may cycle through displays including voltage (volt), amperage (amp), wattage (watt), line frequency (Hz) and power factor (VA). Merchandise usually ships within 10 business days of order.
Please log in to add this item to your shopping cart or wishlist.

My Account | Shopping | Use Points | About the Program | Contact Us
© 2020 RewardsNOW, Inc. All rights reserved.