Product Details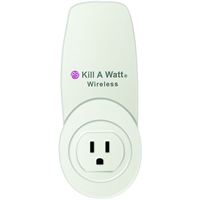 Kill A Watt Wireless Sensor Expansion Pack
(PRE-D-P4220)
9,696 Points
Maximize your utility cost savings by adding an extra sensor to your Kill A Watt Wireless network, allowing you to monitor multiple appliances at the same time.You can use up to 8 sensors simultaneously! Applications include: comparing the efficiency of multiple devices, monitoring power consumption in different rooms, individually measuring the components of your home theater or workshop and more. Using multiple sensors lets you conveniently measure and monitor from a central location. No need to plug and unplug your appliances. The Kill A Watt Wireless Display shows you the consumption from individual sensors as well as a cumulative measurement. Knowledge is power; adding sensors to your Kill A Watt system increases your awareness and understanding of your impact on our planet. Merchandise usually ships within 10 business days of order.
Please log in to add this item to your shopping cart or wishlist.

My Account | Shopping | Use Points | About the Program | Contact Us
© 2020 RewardsNOW, Inc. All rights reserved.