Product Details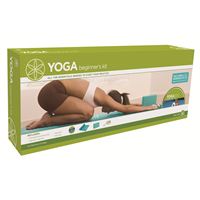 Gaiam Yoga Beginners Kit (Blue)
(PRE-05-53724)
7,614 Points
Begin your yoga practice with all the tools necessary to master the basic skills. Rodney Yee's expert advice from beginning poses to prop use teaches everything you need to build a solid foundation. Whether you're looking for increased flexibility or a workout that challenges the body as a whole, the Yoga Beginner's Kit is an ideal way to ease yoga into your daily routine.
Includes everything you need:
•Full-length Instructional DVD
•Alignment Yoga Mat
•Yoga Brick
•Yoga Strap


Merchandise usually ships within one week of order.
Please log in to add this item to your shopping cart or wishlist.

My Account | Shopping | Use Points | About the Program | Contact Us
© 2019 RewardsNOW, Inc. All rights reserved.