Product Details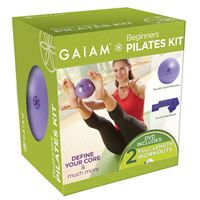 Gaiam Beginners Pilates Kit
(PRE-05-60557)
5,725 Points
Lose weight and tone muscle faster by incorporating two of the most popular Pilates
tools into your workouts. The body-sculpting ball helps engage muscles in the lower
abdominals and inner and outer thighs, while the resistance band maximizes your
Pilates workout to more effectively sculpt and tone your entire body in less time.
See why celebrities and fitness enthusiasts alike choose Pilates to keep in top form.
INCLUDES:
• Pilates Sculpting Ball
• Pilates BodyBand
• Pilates Body Sculpting
Workout DVD with
2 workouts
Merchandise usually ships within one week of order.
Please log in to add this item to your shopping cart or wishlist.

My Account | Shopping | Use Points | About the Program | Contact Us
© 2019 RewardsNOW, Inc. All rights reserved.