Product Details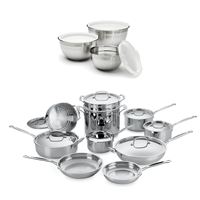 Cuisinart 17 Piece Chef's Classic Stainless Cookware Set with Cuisinart 3pc SS Bowl Set
(PRE-77-17-SB302LP)
53,062 Points
Includes Cuisinart 3pc SS Bowl Set. The perfect choice for serious cooks, entertainers or big families, this ultimate set includes everything a home chef needs. Cuisinart offers three saucepans, three skillets, a large sauté, the versatile 9-quart stockpot with pasta insert, and a steamer insert that fits the 2-quart and 3-quart saucepans.

Product Features

1 1/2 Qt. Saucepan with cover
2 Qt. Saucepan with cover
3 Qt. Saucepan with cover
4 Qt. Sauté Pan with helper handle and cover
8" Skillet
10" Skillet
12" Skillet with cover
9 Qt. Stockpot with cover
20 cm Universal Steamer with cover
(fits 2 and 3 qt. Saucepans)
24 cm Pasta Insert Merchandise usually ships within one week of order.
Please log in to add this item to your shopping cart or wishlist.

My Account | Shopping | Use Points | About the Program | Contact Us
© 2019 RewardsNOW, Inc. All rights reserved.