Product Details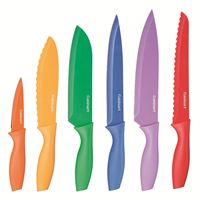 Cuisinart 12pc Color Knife Set with Blade Guards
(PRE-C55-01-12PCKS)
6,913 Points
The Cuisinart G550112PCK 12 Piece Resin Knife Set will have you slicing and dicing like a pro. These knives are ideal for easily cutting through steaks and thick chops and feature resin-coated stainless steel blades that reduce the sticking of food to the knife, allowing for easier, more efficient cutting. The razor-sharp high carbon stainless steel blades feature a unique non-stick coating which resists stains and corrosion. Ergonomically-designed handles provide a comfortable grip for effortless slicing, whilst the unique colour coding system allows you to select your knife of choice at just a glance. Merchandise usually ships within one week of order.
Please log in to add this item to your shopping cart or wishlist.

My Account | Shopping | Use Points | About the Program | Contact Us
© 2019 RewardsNOW, Inc. All rights reserved.