Product Details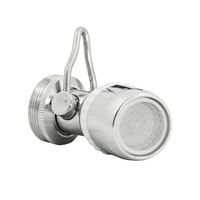 AM Conservation Flip On/Off Aerator
(PRE-D-FA022)
2,958 Points
The flip lever control on this faucet aerator allows the user to quickly and temporarily reduce the flow of water down to a trickle. This is especially useful in kitchen sinks, so you can have plenty of water when you need it and minimal water flow when you don''t. Dual threaded, rated at 2.2 GPM or less. Solid brass chrome-plated body. Merchandise usually ships within 10 business days of order.
Please log in to add this item to your shopping cart or wishlist.

My Account | Shopping | Use Points | About the Program | Contact Us
© 2019 RewardsNOW, Inc. All rights reserved.