Product Details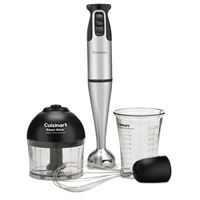 Cuisinart 2-Speed SmartStick® Hand Blender
(PRE-CSB-79)
15,151 Points
What do you call a hand blender that blends, purées, chops, grinds and whips creams and meringues? A Cuisinart® Smart Stick! The 2-speed control – plus chopper/grinder and chef''s whisk attachments – let this hand blender perform the tasks of 3 food prep appliances. One-touch operation and the ability to blend right in a pot, pitcher or bowl make it an all-time favorite of home cooks. Merchandise usually ships within one week of order.
Please log in to add this item to your shopping cart or wishlist.

My Account | Shopping | Use Points | About the Program | Contact Us
© 2019 RewardsNOW, Inc. All rights reserved.