Product Details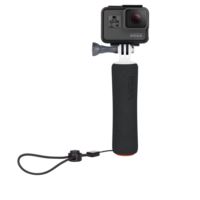 GoPro The Handler (Floating Hand Grip) Mount
(PRE-AFHGM-001)
6,313 Points
Get a solid grip on your GoPro and keep it afloat with The Handler. Whether capturing selfies, POV or follow-cam footage, this buoyant hand grip delivers increased stability and control—making it easy to aim the camera and frame your shots with confidence. Perfect for surfing, kayaking, wakeboarding and more, it floats any GoPro camera plus BacPac™ accessory so you can shoot in and around the water without a worry. Includes an adjustable wrist strap and The Tool—a GoPro thumb screw wrench that doubles as a bottle opener. Waterproof to 33'' (10m). Merchandise usually ships within one week of order.
Please log in to add this item to your shopping cart or wishlist.

My Account | Shopping | Use Points | About the Program | Contact Us
© 2019 RewardsNOW, Inc. All rights reserved.