Product Details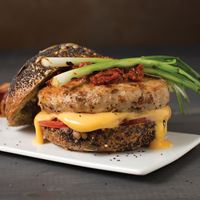 Omaha Steaks8 (5 oz.) Pork & Bacon Burgers
(PRE-D-02455)
8,906 Points
Bacon is featured in everything now, sometimes in surprising combinations. But bacon and burgers? That''s a natural! If you love a big, juicy burger and the smoky flavor of bacon, this new Omaha Steaks creation is going to jump to the top of your favorites list. It combines the flavorful pairing of pork and bacon mixed together so you get that wonderful flavor of bacon in every extra juicy bite instead of simply perched on top. Great ideas are worth sharing, so treat your friends and family to this fabulous new burger soon! Merchandise usually ships within 10 business days of order.
Please log in to add this item to your shopping cart or wishlist.

My Account | Shopping | Use Points | About the Program | Contact Us
© 2019 RewardsNOW, Inc. All rights reserved.