Product Details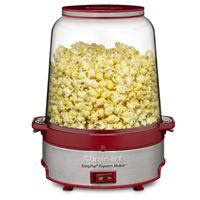 Cuisinart EasyPop® Popcorn Maker Red
(PRE-CPM-700)
11,909 Points
The Cuisinart EasyPop® Popcorn Maker makes it easier than ever to pop crunchy homemade popcorn.The Cuisinart Easy Pop® Popcorn Maker pops up to 16 cups and has special vents in the popping bowl to let moisture escape. Popcorn lovers can select the desired amount of oil and salt to make popcorn just the waythey like it. When popping is complete, they can serve right from the popping bowl. The Cuisinart EasyPop® Popcorn Maker operates with the simple flip of a switch. Cleanup is easy too: All removable are parts are dishwasher safe. Merchandise usually ships within one week of order.
Please log in to add this item to your shopping cart or wishlist.

My Account | Shopping | Use Points | About the Program | Contact Us
© 2019 RewardsNOW, Inc. All rights reserved.